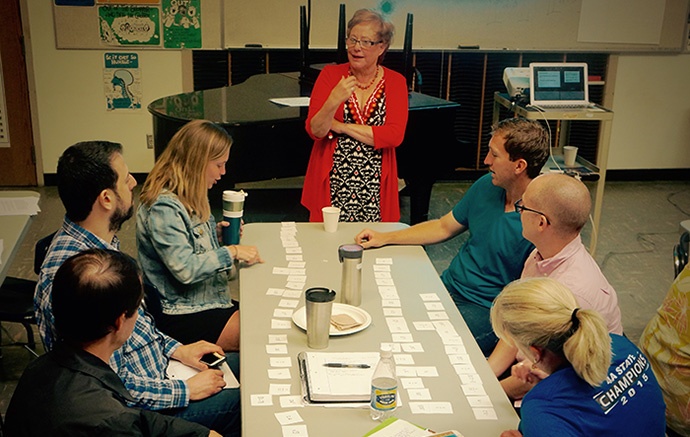 Teaching is a complex and sophisticated endeavor. It involves thousands of decisions every day and requires teachers to constantly adjust their instructional practices to meet the needs of their students. To help them with this challenging task, school districts have put in place instructional frameworks and rubrics.
These frameworks and rubrics are intended to capture the complexity and sophistication of teaching across grade levels and content areas and give everyone a common language when talking about classroom teaching. But as instructional leaders and teachers increasingly have a shared general understanding of what good teaching looks like and how it is evaluated, many are asking how to grow teaching practice — in particular, content areas like math, language arts, social science and others. They are asking about using frameworks in content-specific ways to develop content-specific thinking habits.
This is an important question because each content area has its own body of knowledge, ways of communicating, arguing and reasoning — and particular instructional practices best suited to teaching it.
Here at the Center for Educational Leadership (CEL), we increasingly see school districts move from a general framework training to more specific content area professional development. This makes sense because in our experience, knowledge of the frameworks and rubrics is an important first step in supporting teaching practice. Once principals, teachers and instructional coaches have learned to use these tools strategically for reflection and professional learning, they are ready to learn more about content-specific strategies.
What is content-specific scaffolding?
Let's take a look at an example and find out how this natural transition plays out in practice.
Over the past few months, several district leaders approached us with questions about one particular part of our instructional framework and rubric — scaffolding.
A quick primer on scaffolding: The idea is originally from Lev Vygotsky, who argued that with support or "scaffolding," learners can do more than they can do alone. This important, research-based concept appears in all instructional frameworks and rubrics that we encounter in the field. At CEL, we define scaffolding as the following:
The provision of sufficient support to promote learning when concepts and skills are first introduced. These supports are removed as students develop automaticity.
When a child is learning to ride a bike, he or she likely starts with training wheels. Those training wheels serve as a scaffold or support as he or she learns how to balance and coordinate movements. Over time, the training wheels become less important and are eventually removed. In school, scaffolds help students think and organize in new ways before they are ready to do so independently.
General cross-content strategies for scaffolding include providing students with note-taking tools (like Cornell-style notes) to help them track what they are learning in any subject area, providing a visual image to accompany a new concept or offering a sentence stem to help students speak academically.
How to improve practice in content area-specific groups
All these scaffolds are useful for students across their school days and academic careers. In our conversations with district leaders on this topic, we often hear this comment: "Our teachers want to provide better scaffolding, but they need more than the general strategies we have been offering them over the years."
"Our teachers want to provide better scaffolding, but they need more than the general strategies we have been offering them over the years."
In response to one such request, we recently provided local high school math and language arts teachers in Washington with professional development on scaffolding tasks in their content areas. While both groups learned about content-appropriate scaffolding and how to remove scaffolds over time, the professional learning sessions were each grounded intensively in the teachers' curriculum, Common Core State Standards, and content area practices.
In one set of sessions, the English teachers learned about helping students create their own graphic organizers to arrange their thinking while reading, and then how they as teachers could write focused text-dependent questions to accompany rigorous texts they were reading. The questions were designed to help students read more slowly and carefully. The teachers learned that over time as their reading improved, the students seemed to need fewer text-dependent questions as they navigated texts.
The math teachers learned about giving students open-ended tasks first and then providing scaffolds like visual representations after the students grappled with the tasks. Math teachers also learned about the uses of algebra tiles and graph paper as scaffolds for building symbolic understanding of algebra (see image above).
The opportunity to work on their practice in content area-specific groups with content experts gave teachers a specific set of practices for their classroom contexts. At the same time, teachers benefited from having the common language based on the framework and rubric. While this example is focused at the high school level, we find the same level of content specificity is needed across all grades.
When to start
Content area-specific training is important for teacher growth and student learning. But district and school leaders often don't know when it's a good time to start content area professional development. Here are a few common signs indicating that your teachers could benefit from content area professional development:
Teachers feel comfortable with the framework and rubric, and you are not sure how to provide them with specific next steps in their content areas.
Teachers are asking specific questions about curriculum and pedagogy or discipline-specific thinking habits.
You identify a particular content area-specific issue in student learning that your teachers are not sure how to address.
Teachers are asking for additional content area-specific collaboration time to design lessons or analyze student work.
Teachers are asking about how to address the demands of new content area standards and assessments.
As we support districts across the country, we see evidence every day of what students can do when provided with powerful content area-focused instruction. We watch students develop confidence and improved skills as readers, writers and mathematicians. We see students approaching new, rigorous texts with content-specific strategies. We watch as students work together to justify solutions to complex math problems and reconcile their different ways of solving them. Content-focused professional development opportunities can help teachers create these powerful learning opportunities on a daily basis.
Topics: Teaching Effectiveness, Content Area Professional Development