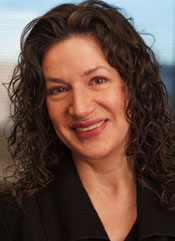 Walk into a school district boardroom and you're likely to find artwork and school projects highlighting student learning. The boardroom walls of the Marysville School District are similarly plastered with posters and paperwork depicting learning—only this time the names on the papers are those of teachers, principals, and central office staff. Also displayed is a large sign: "OUR VISION: Marysville students, families, staff, and community are committed to working together to achieve academic excellence." That phrase, "committed to working together," is significant, as this is the same district that a mere three years ago experienced the longest teacher strike in Washington state history—49 days. Yet today there is no evidence of this past strife in relationships between the teachers' union and the district management, nor between teachers and administrators. No one would disagree that the district is in a very different place today.
When he first came on board in 2004, Dr. Nyland began a partnership with The Center for Educational Leadership with the intent of raising the level of achievement for all students within this diverse community. Is the partnership working? Yes. One indicator is the 20% increase in reading WASL scores from 2003-2006 for tenth grade students. However, probably the most compelling evidence is the climate shift within the district.
Teachers, principals, and district administrators now meet regularly to expand their collective knowledge about literacy and the most effective teaching practices within that content area. They learn about teaching strategies by watching an instructor teach an actual class of high school students. All the people in the room, regardless of position, openly share their questions, thoughts, and learning together. There is a focused and collegial goal among central office staff and teachers to improve upon their own skills and expertise in order to best serve the diverse needs of their student population.
Scott Irwin, principal of Allen Creek Elementary, shares how the CEL/Marysville partnership has impacted student learning within his school. "There is a culture of reading. When I go into classrooms I see almost every child engaged in books and motivated to learn. There is definitely a community of learners." This culture didn't happen overnight. Scott has been intentional in working collectively with his staff, literacy coach, and the CEL coaches to gain content knowledge and as well as a greater understanding of what powerful literacy instruction looks like within the classroom. As Scott shares, "Teachers are more intentional in their modeling [for students] of themselves as readers. Teachers use a language of learning—they'll share the practices they're working on, what they're trying."
So, how did Marysville begin this process of improvement? The CEL/Marysville partnership began with a focused purpose aligned with CEL's theory of action. That is, in order to raise the level of achievement for all kids, the quality of classroom instruction needs to improve. In order for instruction to improve, leaders need to better understand what powerful teaching looks like and learn how to lead the work. To help Marysville reach these goals, CEL provided site-based content area and leadership coaching for teacher-leaders, principals, and central office staff. The development of principals' instructional leadership became a priority in the district. Teachers and leaders were encouraged to become more public in their practice—to openly share their learning by teaching lessons their colleagues would watch and discuss collegially afterwards. Central office staff also regularly conducted non-evaluative "walk-throughs" within schools and classrooms. This practice provided reflection upon the effectiveness of the district's professional development work and assisted with planning next steps toward future goals at both the school and district level.
Judy Albertson, principal of Marysville Junior High School, shares her learning as a result of the CEL partnership. "As a leader I have more clarity around best [teaching] practices. I've learned a lot about literacy, about what specifically constitutes student engagement and depth of thinking." Judy also shared that the district goal has created clarity of purpose. "As a system we're thinking about how to move the work forward. There are high expectations, but there is also a lot of support as we work collectively toward our goals."
As Marysville wraps up this second year of the CEL partnership and begins planning for year three, there is celebration. Not only has Dr. Nyland been recognized as a finalist for National Superintendent of the Year, but a Marysville principal has also been selected as Washington State Principal of the Year. These honors reflect not only on these individuals but on the system as a whole, one that is eliminating the achievement gap to ensure all students receive a rigorous and empowering education.
To learn more about the CEL/Marysville partnership, read the March 7, 2007 Seattle Times article.
Topics: School Leadership, District Leadership, Teaching Effectiveness, Partnership Stories