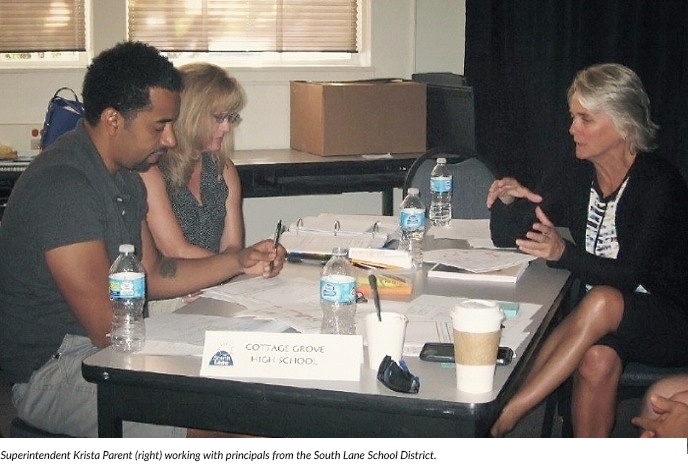 My first teaching job was in the South Lane School District in Cottage Grove, Ore. Today, more than three decades later, I'm still in the same district, having served as the superintendent for the last 16 years.
To be completely honest, I'm not exactly sure how I ended up as a superintendent because, at heart, I'm still a teacher. I view my work through a teaching lens, which, coupled with my long tenure, has really helped me go deep in my work and analyze what it is that makes systems drive instructional improvement.
What I've learned is that good teaching and learning is not just a teacher issue. True, students need effective teachers. But effective teachers need good principals. And good principals need support from the central office. Unfortunately, it's the last part of this chain where the system often breaks down.
Leading for Learning
Our central office team has worked hard to help principals focus on instruction even as their job gets ever more complex. It's safe to say we are still learning a lot every day, but we also have knowledge to share.
Over the past year, a lot of our learning and sharing happened in Leading for Learning, an initiative by the Chalkboard Project, a group dedicated to improving Oregon's K-12 public schools (I'm leading their distinguished leaders council). The two-year program facilitated by the Center for Educational Leadership (CEL) helps central office leaders from across Oregon build the know-how and capacity to better support principals.
I've been a strong proponent of Leading for Learning as a way to share some of our experiences and establish Oregon as the place to be for great central office leaders. It has also been a great learning opportunity to find new ways to grow our principal's instructional leadership skills.
So, in the spirit of sharing and learning, here are some of the lessons we have learned from our longstanding efforts to improve the central office-principal connection and how we are still refining them in the Leading for Learning initiative.
Put teaching and learning front and center
Throughout my career, I've seen how great teaching drives student achievement. Principals can have a strong influence on teaching — if we give them the support to be instructional leaders and are deliberate in the things we ask them to do.
Principals can have a strong influence on teaching — if we give them the support to be instructional leaders and are deliberate in the things we ask them to do.
In our district, improving instruction is the centerpiece of all programs and activities and the lens through which we view principal support. For example, at almost all of our all-principal meetings we are digging into teaching and learning issues. We watch and analyze videotaped classroom lessons. We practice giving teacher feedback. We talk about how to plan follow-up activities. Districtwide meetings of all principals and central office staff are a big investment and focusing on instruction offers the best returns.
Hands-on instructional leadership development is very important but there are other areas where school districts can move the needle. Thoughtful hiring is a starting point. New principals need to have a strong focus on instruction and a drive to improve their skillset.
Central office administrators should nurture this drive not only through professional development but also by taking on the role of a thought leader. Principals often don't have the time to read and sift through all the new research and best practices. Somebody needs to decide what makes sense to bring into our current practice and I think we in the central office are well-placed to do it.
Try to get off the island
It's almost a platitude, but it's true: improving teaching and learning is a team effort. Nobody should be out on an island doing their own instructional work, not sharing their knowledge. It's difficult to prevent in practice, especially in large districts, but central office leaders need to take a systems view and find ways to build and engage instructional teams.
With the Leading for Learning initiative, we tried to address this "islands of excellence" issue in two ways. It brings together central office administrators from across the state to share knowledge and learn what it takes to implement effective systems for supporting great instruction.
Nobody should be out on an island doing their own instructional work, not sharing their knowledge. Central office leaders need to take a systems view and find ways to build and engage instructional teams.
It's also an attempt to solve what I call the "hotshot principal" challenge. Every district has some great principals. But often they get stretched beyond their breaking point and either change careers or go somewhere else. They take their instructional leadership expertise with them — if they haven't been collaborating with their central office. In training central office leaders to support principals and become instructional leaders, we have a better chance to get excellent principals into all of our schools.
The lesson of getting everyone on board is one we (re-)learned in this project. Central office teams got a lot of work done in the learning sessions, while districts with only one central office administrator attending had to go back and replicate that work with their central office colleagues.
Practice problems of practice
Principals have to deal with many tasks and priorities. So it's important for central office partners to provide a structured process that helps them improve instruction. We have focused this work around "problems of practice", short, six- to eight-weeklong projects that try to take a specific, high-priority instructional issue from initial analysis to implementation and assessment.
For example, last year I worked with my high school principal and his assistant principal on how students are working their way through algebra as freshmen. We had noticed that 20-25% of students weren't doing well in algebra one — a gatekeeping course for freshmen — at the end of the first trimester and often continued a cycle of failure until the end of the school year.
In this situation, it's easy to jump to conclusions and zero in on the teacher learning problem because that's what we as principals and central office people are most comfortable with. In this case, principals identified the issue as one of math teachers not using enough student engagement strategies in their instruction.
Asking the right questions
But here is how Leading for Learning and the work with CEL really helped us take a close look at the student learning problem and ask the right questions. Even though initial data suggested student engagement was the issue, ongoing classroom observation showed that our teachers were using very effective engagement strategies.
By restructuring the interventions, 93% of the Algebra I students with a "F" after the first trimester were able to show measurable growth by the end of the year.
After some more probing, we looked at the interventions before the first failing point at the end of the trimester. While we did see a number of ways teachers tried to help students improve, we didn't have any analysis of what was effective and what wasn't. So we decided to unpack some of these interventions and find out how they impacted teacher learning. By restructuring and fine tuning the interventions, 93% of the Algebra I students that had received a "F" grade at the end of the first trimester were able to show measurable growth on the following core standards by the end of the year:
equation solving,
writing and graphing linear equations,
solving systems of linear equations and
solving quadratic equations with polynomials
Weaving the web of instructional leadership support
Our work on this problem of practice shows how instructional improvement is a constant back-and-forth between partners to pinpoint the problems students are facing and how to solve them across the different levels of the system. We can often come up with prescriptions for teachers but it's more challenging to think of what principals can do to properly support teachers. Going one level up, central office administrators wrestle with their role in supporting principals and how it relates to student learning.
It's clear to me that we in the district office can have an impact on student learning. I have listed a few challenges and solutions we have tackled over the years and in the Leading for Learning project but I could add many more. How many principals should one supervisor support? What's the best way to prepare central office administrators for their job? How do we decide which problem of practice to take on first?
No matter how thoughtful we are in weaving the complex web of instructional leadership support, it's important to remember that improving district leadership is always about learning. If we share what we learn, we can help our hard-working educators and — most important of all — give students the great education they deserve.