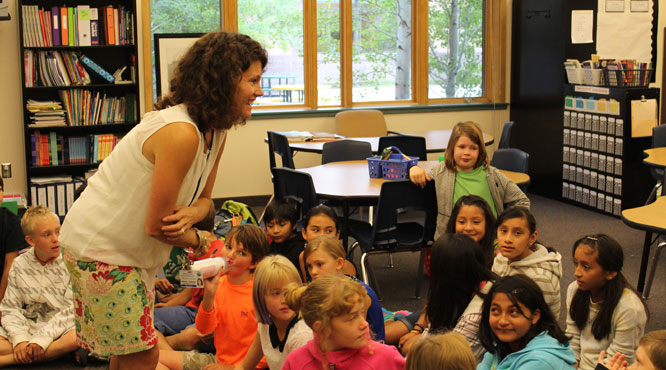 The Big "Aha": CEL Brings Equitable Learning Strategies to Small District With Stark Gap
As she scans student faces during classroom discussions, Michelle Rooks constantly asks herself "Who is being left behind? Who needs support to access the conversation?" The middle school instructional coach describes these as "gut questions" – questions planted by University of Washington Center for Educational Leadership (CEL) experts who, over the past three years, have brought powerful equity-driven instructional and leadership strategies to a Wyoming school district with a stark and striking achievement gap.
The district, Teton County School District No. 1, is located in what Forbes magazine describes as one of the wealthiest counties per capita in the country, with median household incomes topping $70,000. The county is the home of Jackson Hole, a tourist destination famed for its world-class ski slopes, Old West décor, and high-end hotels, shops and galleries. It is also home to a booming service sector that has brought in hundreds of Latino workers and their families, many non-English speaking immigrants from Mexico.
Over the past decade, the immigrants' children have swelled student enrollments: this year, 28 percent of the approximately 2,300 K-12 students in the district are Latino. In one kindergarten group, Latinos comprise 43 percent of students. In classrooms, contrasts can be sharp -- linguistically, academically and socioeconomically. In the same room, says one principal, you can find students whose parents own private jets and fly to the Bahamas on weekends and students who live in two-bedroom apartments with eight people.
"The gap is extreme – and it is wide," says Jennifer McDermott, a project director with the Center for Educational Leadership, a service arm of the University of Washington's College of Education.
The demographic shift has created a sizable challenge for the small district: how to shift instructional practices aimed at a largely well-off Anglo population to practices that can help all its students, including English-language learners, succeed at the high levels demanded by rigorous new state and federal mandates.
Before contracting with CEL, the district tried valiantly to address the challenge on its own, putting in place instructional coaches, English-language learning programs, new curricula, and a highly popular dual-language immersion program. But the district was still underperforming. "Our initiatives were not having the change effect," says Superintendent Pamela Shea. "We had an achievement gap that was continuing to grow and test scores that were stagnant. We knew we needed to take a look at the whole system, and not take a piecemeal approach to fixing things."
With generous resources from state funds and federal grants, the district signed with CEL for a full comprehensive partnership focused on literacy improvement and aimed at systemwide change. "Our achievement gap was one reason we qualified for the grants, but it was also our readiness and ability to take on the transformation work. Not every district is willing to do that," says district Special Projects Director Pier Trudelle, who like other leaders had heard of CEL's success using cutting-edge, evidence-based practices to address achievement divides nationwide.
"CEL has a strong belief system around equity and access," says Trudelle. "They are constantly pushing our thinking on what that looks like, whether it is in the classroom or the central office."
CEL tailors its comprehensive partnerships to a diversity of districts – large and small, urban and rural – working closely with principals, teachers, instructional coaches and administrators to build capacity for high-quality, equitable instruction. To do this, it is critical to put everyone in the same mindset, speaking the same language, studying together, learning together, and intentionally working on a common mission, using common tools and strategies.
"When the process is aligned and everyone knows what they need to work on together, it expedites the learning process," explains CEL project director Sandy Austin. "You are not going to move as fast with student achievement if you don't have a common view. Who suffers are the students, who have an incoherent education."
Coherence means teachers align the way they teach vocabulary or literary sense-making, reducing confusion for struggling students. It means that all students, whether they are in first or eighth grade, can pick up common instructional cues such as "turn and talk." It means that all students know they are expected to be engaged, critical thinkers – and that instructors from one grade to the next will provide them the support to do that.
"It is particularly helpful for English-language learners to have these more predictable classroom environments," says McDermott. "If classes follow a predictable structure, and teachers use the same words and processes, students can put their efforts into actual learning instead of navigating unique learning situations."
In the Teton County district, the change work began with setting up learning studios inside working classrooms so that everyone could observe – in real time, with real students – what constitutes effective teaching in general and effective teaching specifically in literacy. Teachers, principals, coaches and administrators watched as CEL project directors used scaffolding techniques designed to engage all students, regardless of background or language skills, in rigorous discussion and learning.
The equity-driven strategies were a "big aha" for many teachers, says Austin. "Teachers were saying, 'Wow! Look at what our students can do!'"
Studio participants observed, discussed, analyzed, then gradually began trying on various new strategies themselves, differentiating instruction for different learners. That might mean bypassing the eager high-achiever with all the right answers and calling on his silent peers, helping them articulate their ideas and, in the process, giving status to different kinds of learners. It might also mean that, instead of giving 6th grade students reading at 3rd grade levels "baby" elementary school texts, teachers provided them supports to access the upper-grade material so they could participate in sophisticated peer-level conversations.
The studio sessions and side-by-side classroom coaching – by both CEL experts and the instructional coaches they train – gradually helped deprivatize practice. Instead of teachers "doing their own thing" in isolation, they began to expose their instruction to honest, open scrutiny from peer professional learning communities. "One of the beliefs of CEL is that to become better at our practice, we have to collaborate, and we are truly collaborating now, talking about our instructional practice in objective terms," says Bo Miller, principal at Jackson Hole Middle School. "We are being specific, analytical and diagnostic. And all of our decisions are grounded in how to teach to student needs."
Leadership work is also paying off. CEL experts are helping principals move from an old evaluation system based on a single supervisory event to an ongoing cycle of quick, targeted feedback based on clearly defined goals for teacher growth. "It was pretty obvious to our teachers that the old evaluation system was not going to help them get better," says Chad Ransom, principal of Colter Elementary School. "We are already seeing significant changes, and teachers really value the shift."
The new "growth mindset" extends from elementary classrooms to the administrative boardroom. CEL project directors have worked one-on-one with Superintendent Shea to help her support principals in their new work, connect the dots between school initiatives, and develop and consistently message a solid theory of action built around equitable instruction. "If we are going to do this real, systemic work, we have to also ask ourselves, 'What do we need to change at the district office in terms of leadership support and development?'" says Shea.
Self-scrutiny is critical to the transformation work. Everyone in the district – whether teacher or leader – is developing a personal "cycle of inquiry," a reflective process that asks: What am I able to do right now? What am I on the verge of doing? What am I far from being able to do? "Just like our students, as educators we have to continually improve and get better at our profession," says Miller. "The belief is that we are all in this to get better."
As CEL's philosophies and processes have taken root – becoming what some district educators call a "habit of mind" – teachers and leaders have taken on more ownership for the work. Many now head their own studio sessions, mentor staff new to principal and teacher roles, and conduct their own intensive two-week coaching cycles with peers. The switch is part of CEL's "gradual release" structure. "Our mode is: we do it and you watch, then let's do it together, then we'll watch you and give feedback," says Austin.
The professional development efforts at Teton County School District No. 1 have paid off in significant gains, both for high achievers and low. "At our school we are focused on longitudinal measures, studying the same groups of students over time," says Ransom. "What we've been able to see is that our Anglo students were 80 to 90 percent proficient in literacy in kindergarten, and Hispanics were 20-30 percent. We have been able to narrow that gap. In the same group, now in sixth grade, we see that Anglos are 90-95 percent proficient, and Hispanics are 70-80 percent proficient."
The work leading to those gains has been hard. And it is hardly done. Latinos are still not performing at the level of Anglo peers. There remains a last stubborn component to the achievement gap that cannot be closed without laser-focused, individual targeting of the most seriously struggling students. "We have learned to teach for all students," says Ransom, "now we have to reach the last few."
Educational equity is still a "work-in-progress," say leaders. But the Teton County educators who have learned to hold all students to high expectations have also learned to hold themselves and their system to the highest standards. In a nation where almost one-half of students from low-income, minority and English-language learning populations drop out of school, this small district in the high mountains wants to prove the exception.
"CEL has created this urgency in a place where it didn't exist before," says Rooks. "It's this idea of reaching 100 percent of the students and making them 100 percent successful, 100 percent of the time."
---
Learn more about CEL's district partnerships. Contact us for a no-cost consultation on how CEL can support all levels of your school system.
Topics: School Leadership, District Leadership, Teaching Effectiveness, Partnership Stories