Since 2015, Tammy Campbell has served as superintendent of Federal Way Public Schools, a diverse district of 39 schools and 23,000 students in Washington state. As an inspiring, second-year superintendent with 20 years of experience in education, Campbell delivered the opening keynote presentation at the CEL Summer Leadership Institute, held July 18-20, 2017. CEL's Sheeba Jacob had the pleasure of interviewing Dr. Campbell recently.
Sheeba Jacob: Why did you decide to get into the field of education?
Tammy Campbell: I grew up in rural Louisiana, and all of my teachers were teachers of color. They were black teachers who could not get jobs in the local economy. For instance, my high school math teacher graduated from Harvard yet could not get a job anywhere else. I had a great teacher almost every year. For many of them, they saw the act of schooling me and my classmates as a form of resistance. They put everything into making sure we could read, write and be confident adults. That is why when I was teaching my own children to read at home, I immediately was drawn to my schooling — to the impact that educators had made on me — and wanted to do the same thing.
Who inspires you to grow?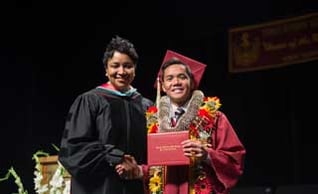 Students do. Because you are not going to improve a system unless you have their interest in mind. You are not going to improve a system by being static and not growing. Whenever we do not get something right — for either a scholar or our collection of scholars — I am motivated to learn more, to get my kids to learn more and do whatever it takes to help them to be successful. I would say our patterns of achievement, or lack thereof, inspire me. The opportunity gaps and subsequent achievement gaps inspire me. When I see the difference in achievement for black kids and Hispanic kids, that inspires me. Certainly the story of one scholar can help you see impact in a personal way, but it is the achievement patterns for groups of children that push me the most because of the sheer numbers.
How do you select the right challenges to target in your district?
Here is the key: First of all, you need to know what success looks like. My experience in multiple systems has given me a viewpoint to quickly come in and assess organizational strengths and organizational challenges. Then you measure that against what you know the ideal looks like for a high-achieving district. Once you know the gap, then you pick the highest-leverage strategy to get closer to that ideal. I use that construct for assessing a challenge.
As a new superintendent, how do you create buy-in?
When I first came to Federal Way, I did a 100-day entry plan where I went to every school. I met with the community leaders at the coffee shops. I think I talked with over 700 people during that process, and made all those findings public. I published a report describing what stakeholders said. Then using that process, I built on that and we had a strategic planning process that engaged almost 3,000 people. We had someone come in to help us facilitate, we had community forums, and again, we rolled the draft strategic plan out in full.
Creating buy-in is like an accordion in that a small group drafts something, you roll that out to every stakeholder, you get feedback, you bring that back to the large group again, you adjust and you roll it back out again. That is the kind of process that you use to get voice. I also utilized things like a student advisory with over 30 scholars and a principal advisory with over 20 principals whom I meet with once a month. Then I am out all the time talking to staff, along with giving surveys.
What is a focus area in your district?
In Federal Way, there are some areas where student achievement has diminished. When I assessed the district, in terms of ability to address those things as a system, I noticed that Federal Way is totally site-based, meaning each school is making its own decisions. There is no way for us to move forward collectively if everyone has a different set of directions. The first thing we did was create a strategic plan, the first in 20 years that outlined our priorities and our metrics.
Then I looked at what were we using for instructional materials. Each school and each teacher have been creating their own materials for quite a while. Now we are focusing on what we call a guaranteed viable curriculum; having teachers look at some common instructional materials that they can use. I want to be clear that this is not scripted curriculum or anything like that, but we are going to be utilizing common materials across schools so that when scholars move from school to school they have consistent instruction, teachers can collaborate and plan with each other and we can can provide common professional development across the district. Those are some foundational things that we are doing to address student achievement.
We are also doing some work around racial and cultural equity in terms of teacher beliefs about scholars. Because we are the most diverse district in the state, we want to be sure that our teachers feel comfortable in these environments to reach and teach every scholar, no matter their background, no matter their language, no matter their exceptionality.
When you think of a failure, can you think of one that really propelled your growth and took you to the next level?
It's funny. I don't think about things in terms of failure or falling down, I think about them as falling forward. I would say, wherever we have led large changes, and we did not empower teachers as a part of the solution, and whenever we missed the mark in getting teacher voice and teacher input, those are times I wanted to improve. I learned to slow it down, to be much more strategic and to know that we can't create solutions without buy-in. I would say there have been times in my career where I have had to slow myself down to assess where something fell apart. One of the things that I always do when that happens is own it, then stop at that point, get the input, and right-size the strategy going forward.
What advice do you have for instructional leaders?
Keep your eye on the fact that at the end of the day, the research is clear: academic achievement is about instruction. So for me as superintendent, I see everything through the prism of a quality classroom, whether that is budget, whether that is community engagement, whether that is an article I am writing. Everything is through the prism of high-quality instruction in every classroom across the district.
What makes you get up every day to do this work?
Kids. Kids, kids, kids, always. I love them. They represent to me the very best of who we are as human beings. If we can get it right with them, I think our world is going to be a better place. There is nothing like being in the presence of young people, they are just so inspiring.
I will give you an example. I do this thing once a month called "Chess with the Superintendent." One Wednesday night, two little boys showed up, and I asked each of them, "Do you play chess?" This one little boy said, "No, but I studied, Dr. Campbell. I've been studying, and I've looked at videos online." As I am teaching them the moves, he has already gone out and taught himself. At that point, you realize they are filled with so much hope and possibility.
I also love collaborating and thinking with teachers and principals, because many of the people that are in the career field are in it because they feel the same way I do about kids. There is something that is so encouraging about being in the trenches with like-minded people, who know the difference that they are making every day. They know that even on their worst day, they are some child's best hope.
Finally, for people attending the Summer Leadership Institute, what are three things they must do when they come to Seattle?
Go for a good hike. Go to Café Flora, my favorite vegan restaurant. And go get sushi at Japonessa.
Topics: Equity, Summer Leadership Institute