A Clear Focus: Leadership Lessons in Purposeful Instruction
What if all teachers knew how to plan purposeful, standards-based lessons and learning targets with all of their students in mind? More importantly, what if each of their students understood and could articulate the purpose of each and every lesson?
These are some of the provocative questions helping the Anchorage School District adapt to teaching a student population that has diversified rapidly over the past 20 years. Research clearly shows that students' understanding of lesson purpose can significantly accelerate their learning. And after working in partnership with the University of Washington Center for Educational Leadership since 2009, Anchorage School District leaders are deepening their skills around purposeful instruction.
The nature of the partnership

The Anchorage School District, the 94th largest in the United States, faces unique challenges. It has approximately 50,000 students, with minority populations rapidly becoming majority populations, and more than 90 languages in play, including Hmong, Tagalog, Samoan, Spanish, and Yup'ik. The percentage of students identified as low income in 2010-11 was 44.26 percent.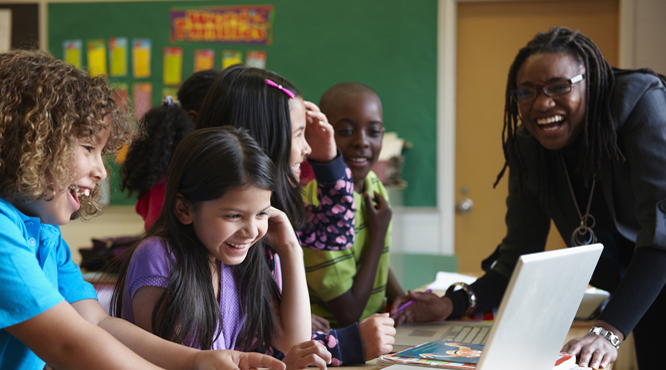 "Over the last 20 years, our community has grown and changed, and we've really become an international community," says Leslie Vandergaw, executive director of middle school education. The district has responded to demographic shifts with strong English Language Learning and migrant programs. These include a "Newcomers" program for non-English speakers, a half-day program which offers sheltered core classes as well as language skills needed to be successful in their home schools. The students spend the other half of the day in their home schools taking other core classes and electives.

ELL achievement scores in some schools have shown substantial gains, reports Vandergaw. But raising achievement scores across the board remains a challenge.

Before partnering with experts at CEL, a nationally-recognized nonprofit service arm of the top-rated UW College of Education, Vandergaw tried numerous strategies to boost instruction and learning. She initiated book study forums with leadership teams, modeled instructional leadership for them, and brought in outside consultants to examine effective professional development strategies. "Still, after a couple of years, it didn't feel like there was any real change. It all just felt like an add-on," she says. "Then CEL came, and it was very clear from the beginning that this was different. This was meaty, intense. After three or four sessions, we started to really understand how deep this work would be."

That intense work in the middle schools has been going on for three years now, with CEL leaders conducting sessions in its 5 Dimensions of Teaching and Learning framework, a widely used instructional framework describing the core elements of quality teaching. Partnership work includes leadership assessments and side-by-side coaching, guided classroom walkthroughs, and studio sessions that put concepts in practice. Principals now say that they feel like instructional leaders, not building managers. "I'm having much higher-level conversations with teachers about instruction," says middle school principal Michael Perkins.

CEL's 5D framework is premised on evidence that with the right learning opportunities, all students, regardless of background, can and will achieve at high levels. The five dimensions of this powerful professional development tool include:
Purpose.
Student Engagement.
Curriculum and Pedagogy.
Assessment for Student Learning.
Classroom Environment and Culture.
Purpose is the foundation of the 5D framework, the "why" and "what" and "how" that drives thoughtful, intentional, focused and consistent classroom practices, say CEL's experts. "Everyone has to have a common vision of instruction that is based on research, and everyone needs to work together to make sure there are common practices implemented for all," says CEL project director Sandy Austin.

Teachers now describe the 5D framework as "just good teaching." "It offers us such a strong framework for thinking through our planning and teaching, and how we need to alter that for teaching specific students," says middle schools literacy support teacher Stacy Miller. "And what I hear from teachers is that when they are very clear around the dimension of purpose, it is the students who struggle the most who have the most benefit. The students who just don't get it need someone to be explicit and tell them exactly what is expected."

Purpose was not the first focus of the 5D work. Leaders began with the second dimension, student engagement. But it became clear they couldn't achieve one without the other. "What we realized is that everything hinges on purpose," says Vandergaw. "Do we know what it is our students are supposed to know and be able to do, and do the students know what they are supposed to know and be able to do, and are our lessons aligned to that? Or are we caught up in activities that do not necessarily support student learning?"

Every school leader was on board when Vandergaw suggested adopting CEL's prototype e-learning sessions, and soon she and CEL project director Austin were leading classroom walkthroughs focused on purpose and projecting e-learning sessions on walls for leadership teams. "Principals already knew a lot about the purpose dimension," says Austin. "The e-learning sessions were a tool to allow them to build capacity and spread knowledge with their staff."
The interactive sessions helped educators establish a consistent vision of academic standards, develop clear long-range goals, and ensure that those goals drive instructional choices from day to day and throughout the year. The online material incorporated videos and discussions of authentic classroom instruction, readings from professional literature, and multiple stop-and-talks for writing, self-reflection, and discussion based on in-depth ideas: What is your calling as an educator and how does that manifest in student lives? How do teacher assumptions influence what you think about an individual's potential? How do you keep expectations high when skill levels are low?
"The online course structure was intended to support inquiry among educators going through the experience," says Rachel Lodge, the lead e-learning developer. "We've seen groups of principals, teacher leaders, and district leaders really grapple with some of the material, asking themselves questions about their own practice that they hadn't had an opportunity to consider in a long time."

Step by step, the online sessions helped educators understand the importance of aligning learning targets with academic standards (what students should know) and establishing related success criteria (what students should be able to demonstrate once they hit those targets). Explicit illustrations demonstrate how purposeful planning can work backward from standards and forward from where each student is academically to help all students reach the same rigorous goals.

This purposeful differentiation of instruction is challenging for teachers – but essential for struggling students, say CEL leaders. "It's a very complex job, providing all students rich educational opportunities that in the past might have been reserved for a small group. But all students need to be able to communicate, to think, and to problem-solve. That is the only thing that will accelerate learning," says Austin.

A main feature of the online course was that it encouraged teachers to ensure that student tasks align to rigorous standards. It also encouraged teachers to help students see and discuss the relevance of lessons, so students can begin to take ownership for their individual learning.

"Posting purpose on the board makes me have to articulate the reason why this lesson is important to my students," says middle school language arts teacher Holly Karjala. "After struggling for twenty minutes to come up with an honest purpose for the grammar worksheets I was about to do, I realized that even I didn't value what I was making my students do. I couldn't make a reasonable connection to real life for them."

"I haven't done a grammar worksheet since," she says. "I now have more creative ways to incorporate that learning in a meaningful way for my students – and for me."

"We have student-led conferences in middle school where students present their portfolio to their family. This year I included a purpose sheet that kids filled out making them explain the importance of that unit, and how the skills and strategies taught would be used in their real lives. It was fun to watch the parents' reaction to the connection their child was making."

The impact of purposeful instruction

School leaders report that the intensive focus on purpose is slowly making changes throughout Anchorage's middle schools. Principals report teachers are more willing to analyze their practice and students are engaging in higher levels of discourse. "I am seeing people start to change their practices, including older teachers, with twenty-plus years, who are suddenly excited about doing things differently," says middle school principal Brendan Wilson. "At the minimum, there's something on the board that wasn't there before, something purposeful. And more students can explain what they're learning and demonstrate it at the end."

And for middle school executive director Vandergaw, the push for purpose is creating pathways to more equitable education, critical in her increasingly diverse urban district. "You can't have some kids getting quality instruction and some kids not," she says. "That still happens when we don't make it clear what's required of teachers to ensure all kids have access to high-quality instruction and learning opportunities."

Those equal opportunities, created with clear intention and purposeful action, are key to closing the stark achievement gaps that continue to persist in our nation, say the CEL leaders dedicated to closing those divides. "We may not be able to control all the social, economic, and political arenas that surround the lives of historically underserved students. But day to day, we as educators are the ones who determine their educational opportunities and their educational experiences," says CEL's associate director, Anneke Markholt.

"When teachers know how to support every student to engage with really rich learning opportunities, that is the kind of instruction and instructional improvement that can make a difference for young people for the rest of their lives."
Topics: School Leadership, District Leadership, Teaching Effectiveness, Partnership Stories