Working Together: School Leaders Problem-Solve in Professional Learning Communities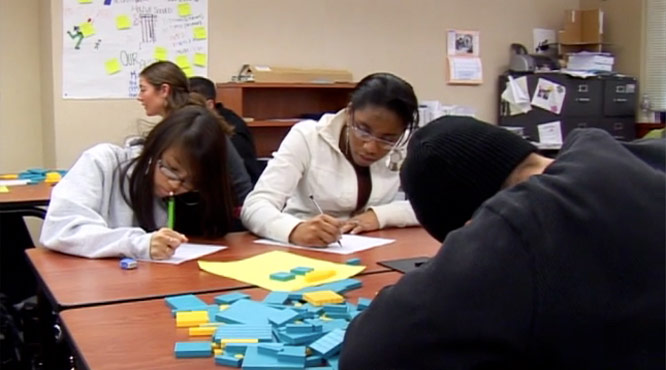 School principals in the Seattle Public Schools district are discovering the power of peer collaboration. They've opened the doors of their school buildings and classrooms, invited school leaders in to observe and give feedback, analyzed instruction in partners' schools, and shared strategies for ensuring that every student, regardless of background, achieves academic success.
The Center for Educational Leadership has guided this collaborative work in the 91-school district for two years, helping principals and assistant principals establish themselves in professional learning communities focused on quality instruction. "This is a way for them to share their practice with each other in disciplined ways. They build on that practice together," says Max Silverman, associate director of CEL, a nationally recognized, research-based, non-profit arm of the University of Washington's top-ranked College of Education.
Working together, Seattle's team members push each other's practice, tackling the toughest problems facing their schools. "If I'm not getting the results I want, I have to ask 'Why?' The professional learning communities are a safe place to have that conversation," says Ted Howard II, principal at Garfield High School, one of 12 high schools in the highly diverse district, where students speak more than 100 languages and more than a third qualify for free or reduced-price lunch.
This intentional collaboration is a new way of doing business, notes Howard II. "CEL's approach is different from the past, where you were supposed to be the person with all the answers, where you were not supposed to be reaching out."
In the past, principals and their assistants weren't consistently trained to be instructional leaders. They were also unlikely to open up their buildings for professional scrutiny – a process that can still be uncomfortable for school leaders. "But if we're asking our teachers to open their doors, asking them to be vulnerable, to be learners, then we as building leaders also need to be willing to do it and open up our entire buildings," says Sarah Morningstar, an assistant principal who recently moved from Rainier Beach High School to the TOPS alternative program.
"Before that happens, though, you have to create a culture of trust and learning, so it feels safe and thoughtful and helpful," Morningstar adds.
CEL's team of leadership coaches has helped foster that reflective culture in Seattle Schools. One of the first steps is to train school leaders to use CEL's rigorous 5 Dimensions of Teaching and Learning, a research-based framework for observing and analyzing classroom instruction and providing meaningful feedback to teachers. The 5D rubric gives school leaders an objective vision of what constitutes high-quality instruction and a common language for discussing it with peers, teachers, district leaders, and the community.
The purpose of 5D is to put everyone on the same page, sharing the same vision of best practice. "What we need for our buildings is consistency. We need a consistent message, consistent expectations, and that's what CEL helps with: that consistent, smart approach to teaching. This is what we mean by good instruction, by best practice, by student engagement. This is what you're going to see," says Morningstar.
In their learning communities, Seattle's school leaders rotated through each others' schools five times per year, visiting classrooms and viewing problems of practice with the 5D lens. They made observations using non-evaluative descriptors such as "10 out of 30 students have their books closed." They checked to see if students could articulate what they were doing and why they were doing it. And they left their hosting administrators with fresh ideas for deepening instructional practice and orchestrating their teachers' professional development.
Sharing clear goals and consistently communicating them with staff helped school leaders have honest, safe, data-based dialogues with teachers about a craft that is complex and demanding. "CEL has helped us create a space where we can really talk about instruction," says Morningstar. "It's not a 'gotcha,' it's a real conversation about what is best for all students. And if all your students are learning, you'll start to close the achievement gap."

That's a pressing mandate for today's multi-tasking principals and assistant principals, who face increasing expectations and decreasing budgets. They must not only manage and run schools – a task one leader describes as a "runaway train most days" -- they're expected to narrow the achievement gap and at the same time raise achievement for every single student, even in the most demanding environments. There is never enough time.

But CEL has helped professional learning community members see that they have to make time, not find time for getting into classrooms and helping teachers improve practice. "CEL's consultants showed us that if we chunked the instruction work into pieces that were realistic to accomplish, we could do them and not get overwhelmed," says Howard II. "Then we could look at them and ask: 'What best practices can I concentrate on that will affect all students?'"

The CEL work with professional learning communities has helped open new lines of communication across the district, says the Garfield High School principal. School leaders are reaching out to peers, partnering up to address the enormous challenges of improving instruction and closing achievement gaps. "Now, we're calling each other, working in collaboration. It's not in isolation anymore," says Howard II. "Together, we can get this work done."

The idea of school leaders studying practice together simply makes good sense, says CEL executive director Stephen Fink. Like teachers, principals and assistant principals need support. Peer-to-peer collaboration provides that support and helps them hone the expertise necessary for the hard work of leading instructional improvement. "The only way to address the achievement gap is to help our leaders improve instructional practice in each and every one of our schools," says Fink. "That's the most important leadership challenge of our day."
Topics: School Leadership, Partnership Stories