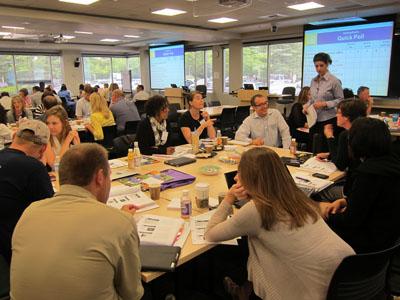 A theory of action. A framework for teaching and learning. Strategies for providing feedback to teachers. These were just a few of the "take aways" for more than 180 educators and administrators who convened for the UW Center for Educational Leadership's Summer Leadership Institute, held July 9-12, 2012.
Attendees came to Seattle from across the U.S. and abroad, representing more than 35 school districts, universities and education organizations. After four days of intensive interactions focused on developing greater expertise in leading for instructional improvement, they returned to the students that they serve with the inspiration, knowledge and energy that could make a difference for the whole school year and beyond.
Institute Highlights:
Nationally acclaimed UW researcher Meredith Honig provided rich examples of how all staff can lead throughout systems to provide high-quality, differentiated, relevant services supporting instructional improvement.
CEL faculty members helped participants become more intentional and reflective about instruction in two days focused on equity, the 5 Dimensions of Teaching and Learning™ instructional framework, and the 5D+™ Teacher Evaluation Rubric.
The final day of the institute was capped off with robust attendee interaction around coaching conversations that are research-oriented and inquiry-based.
Beautiful conference facilities – generously provided by institute co-sponsor Puget Sound Educational Service District – added to a memorable learning experience for all involved.
Topics: School Leadership, District Leadership, Teaching Effectiveness