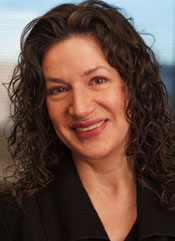 An Interview with Anneke Markholt
Dr. Anneke Markholt is an associate director of CEL. She designs and directs the Center's district partnerships focused on the development of instructional leadership. Markholt is co-author of "Leading for Instructional Improvement: How Successful Leaders Develop Teaching and Learning Expertise."
All but five states have adopted the Common Core State Standards. What do the standards mean for improving instruction in the U.S.?
I think it could range from nothing, to potentially huge implications. Simply having the standards will do little. But having standards where people can say, "This is the vision, this is our north star," is critically important. Being clear about what it is that we want all students to know and be able to do — in this case we're talking about English language arts and mathematics — is a starting point. Having said that, it's another thing whether or not states and districts have the ability to support their teachers in teaching that allows students to meet the standards. There's still the imperative of teaching in such a way that we support each and every one of our kids throughout the country, especially those kids who haven't had the best opportunities for learning. And when you think about the level of commitment and support it would take to do that, the question really is, "Are we really willing to provide the support needed to develop the kind of instructional expertise that benefits all kids?"
The Common Core State Standards are intended to provide a clear set of shared goals and expectations for student learning. How big a change will the standards be for teachers and students?
It depends on where they are. In some districts and some schools across the country the standards are not going to be a significant shift because they are probably more aligned to them. In other places it will be significant, because teachers may currently be asking students to be engaged in far lower cognitive levels than these standards demand. For our most disenfranchised students, the change represents how far we are progressing as a nation. It's asking for a much higher floor, raising the floor for all students. Given what we know is going on across the country, and when we start saying, "For each and every student," the Common Core State Standards are a major shift.
What are some of the questions that leaders in districts and schools should be considering as they implement the Common Core State Standards?
When you think about the instructional practices that truly support the enactment, one question is, "How do we help teachers see what it means to develop their practices in a way that supports students to meet these high-stakes standards over time?" Instructional frameworks that name the kinds of instructional practices become critical. For example, in our 5 Dimensions of Teaching and Learning instructional framework, one can actually see how the standards would be supported. In our Purpose dimension, it's calling out that lessons are based on standards; that they're linked intentionally to prior teacher learning; and that teachers are meeting students' learning needs. There are some great guiding questions for teachers and leaders to consider, as they think about what it means to teach in a standards-based, standard-bearing way.
What strategies should be used for ensuring that all students receive the intended benefits of the Common Core State Standards?
If we don't have cultures of public instructional practice where we're all improving all the time, the intended benefits won't happen. District leaders need to think about what principals may need to learn to do to support teachers at the school level. And principals need to think about the kind of school that they're ultimately running in collaboration with teachers and what it means to support their learning within and across the school years. Those are skill sets that they may need to learn to take on. If they don't have an instructional framework — and not just one that sits on a shelf, but one that is actively used to inquire into and scrutinize practices — then we're not going to see much improvement. It's not hierarchical. It really is about bringing folks together to work on their craft in light of very high standards for kids. We have more tools to support us in getting there, one of which is some agreed-upon standards.
Topics: Common Core