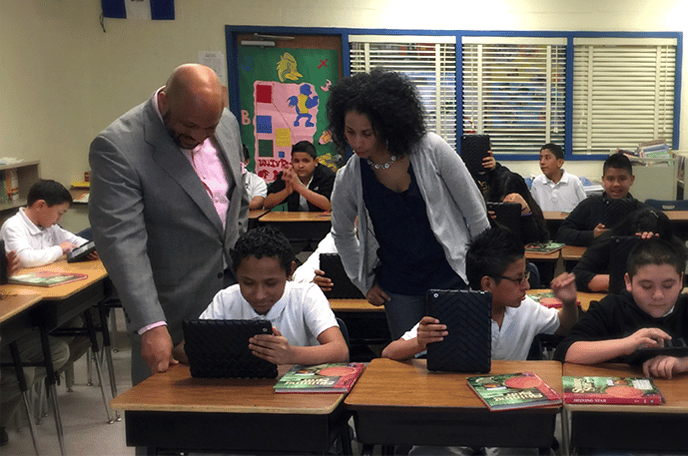 Apart from Common Core, nothing has changed the face of education in this country over the past few years quite as much as the drive to evaluate educators and hold them responsible for results. Since 2009, over two-thirds of states have made significant changes to how teachers are evaluated.
From a focus on teacher performance the spotlight quickly moved to principals and their role in supporting teacher practice. Recently, we have seen increasing recognition of the fact that principals often don't have the tools and support to help teachers — shining a light on central offices and their support for principals' instructional leadership efforts.
Here at CEL, we have firsthand experience of the many challenges school districts face in redesigning principal supervision to support instructional leadership. Through the Leading for Effective Teaching (LET) project, a partnership with the Bill & Melinda Gates Foundation, we have worked with 11 school systems across the country to define the role of principals as instructional leaders as well as how central offices have to adapt to better support principals in these efforts.
So what are the obstacles on the path to the kind of principal supervision that works for students and how can districts overcome them? In a recently published white paper, Lydia Rainey and Meredith Honig from the District Leadership Design Lab highlight common trends and share emerging best practices in redesigning the roles of principal supervisors. If you are interested or engaged in transforming the role of central offices in principal supervision, this white paper is a must-read.
In this post I want to share the most common challenges we see in our work with principal supervisors and central office leaders from across the country. Naturally, not everything applies to all districts and some recommendations might not be realistic in some settings. But for central office leaders thinking about redesigning their principal supervisor role, these practical insights can be a good starting point.
Why do central offices struggle with supporting a focus on improving instructional leadership?
We often see that central offices don't know what role they can and should play to support schools, teacher and principals. They tend to go back and forth between a top-down, command-and-control approach and a hands-off, autonomy-first philosophy. Unfortunately, neither one of these approaches has proven to be effective at improving teacher and principal performance at scale.
Central office leaders often talk about supporting the growth and capacity of other district leaders and administrators. But in their work they often remain focused on compliance, supervision, and "performance management" at the expense of doing the hard work of partnering with principals to support their improvement as instructional leaders.
The most common misstep and how to avoid it
Fortunately, many central office leaders are realizing that empowering people to take charge of improving instruction is a smart strategy. But turning this strategy into reality is difficult and fraught with potential missteps.
The most common issue we see in practice is trying to revise a current position into a new instructional leadership-focused role. The problem is not that the person filling this role is doing a bad job. It's because this person was hired for a different kind of job, one that often requires them to be good in putting out fires and managing people, not building their capacity.
Instead of adding new responsibilities to an assistant superintendent's workload, central office leaders need to create roles that emphasize working side-by-side with principals to improve their effectiveness. Moving in this direction requires new job descriptions, recruiting and hiring practices.
How to set up the new role and find the right person to fill it
Designing (or redesigning) the role of a principal supervisor means making sure that the people doing the job have the right tools, routines and processes in place to regularly engage with principals in a constructive way. Since they are responsible and ultimately accountable for improving principal performance, principal supervisors should be given the time and tools to be successful. (On our Leading for Effective Teaching website we have many resources to help school districts do just that.)
As districts revise the principal supervisor role, the first question is often how to reduce the so-called "span of control" or how many principals any one supervisor should oversee. The white paper shows how important it is to develop a span of control that gives a principal supervisor the necessary time and focus to appropriately support each principal.
In practice, reducing the span of control often creates its own problem: hiring enough highly qualified principal supervisors with a proven ability — or at least clear potential — to help principals improve their practice. Depending on district size, central office leaders might be looking to hire over 20 principal supervisors.
If you can choose between quantity and quality, we highly encourage you to start with a smaller crew of highly qualified supervisors rather than investing heavily in unqualified people to fill an expensive position. Over time you can train your own principal supervisors and will be more than able to meet your demand. Case in point: We are currently partnering with the Broward County Public Schools in Florida in training six principal supervisor interns who will be ready to fill vacancies and/or help reduce the future span of control of principal supervisors.
It's about time
In our practice, we see many school districts hiring smart and motivated principal supervisors only to have them sit in central office meetings more than half of their time. More often than not, this is unintentional and a matter of getting roped into committees and working groups.
In a number of districts, principal supervisors now have blocks of days when they can be in the field with principals. Unfortunately, we still see and hear concerns that this increased time is not always used for capacity building. Two of the main culprits here are an overemphasis on principal evaluation and a continued focus on the administrative and managerial aspects of the principalship.
At CEL, we argue that building capacity has to be front and center when principal supervisors work with principals. That means ensuring that even evaluation and supervision processes focus on continuous improvement. In our work, we are finding that using cycles of inquiry and principal learning plans are effective tools for this type of approach. By utilizing cycles of inquiry, principal supervisors are able to address the evaluation process while focusing deeply on skill improvement.
How to be a coach AND evaluator
Principal supervisors often feel a need to be either a coach or a supervisor. That's an issue, because for this role to work in the context of available funding — few school districts can hire principal coaches and supervisors in separate roles — we have to figure out how to resolve this tension.
While coaching and supervising a principal at the same time can be a difficult balancing act, we just have to look at the world of sports for successful models of how this works.
Picture the head coach of your favorite sports team. Think about how often she or he is forced to supervise (evaluating, giving critical feedback, setting targets) and hold players accountable as well as coach for improved performance.
Ultimately, it's a coach's job to do both: make players better and get results. It's the same for principal supervisors and we need to ensure that we are doing all we can to guarantee that each school has an effective instructional leader.
Put the needs of students first
Here at CEL, we have always believed that improving teaching and learning is not just the responsibility of teachers. That's why we work with all levels of a school district — teachers, principals, and increasingly principal supervisors and central office staff.
I have shared some of the challenges we encounter most often when working with central office leaders trying to implement a principal supervisor role. We are lucky to be working with district leaders across the country to learn the best ways to improve instructional leadership across schools. We will continue to share what we are learning and encourage you to study your own work as you move forward. There is simply too much to figure out to wait on external experts to make sense of this for you.
Topics: District Leadership, Principal Supervisors, Instructional Leadership, Principal Support