Public schools in 29 states took Common Core standardized tests for the first time this spring - another milestone in the long transition to higher academic standards. Kentucky was the first state in the nation to adopt Common Core State Standards in 2010 and within Kentucky, Boone County School District was one of the first districts to implement these new standards.
The results look promising for the northern Kentucky district. In 2014, the state's Department of Education designated the district as a distinguished district in Kentucky based on results from the Kentucky Performance Rating for Educational Progress (K-PREP).
The driving factor for this success and the early adoption of standards was Boone's philosophy. "What we've always been focused on is the fact that we're a high-performing, high-achieving school district, and we constantly strive for world-class standards," said Superintendent Randy Poe.
What steps did the district take to put the high-performing, high-achieving credo into action? In the case study "Taking the Lead in Early Implementation", we describe some of the support systems districts leaders used to help teachers with the challenging transition to new standards.
But there are many more pieces to the standards implementation puzzle. Below, Superintendent Randy Poe and Chief Academic Officer Karen Cheser share their thoughts on their district's growth mindset, the importance of strong partnerships and how these both contributed positively to the Common Core implementation.
Fostering a Growth Mindset
Superintendent Randy Poe on fostering a growth mindset…
… for teachers:
"I think that hiring is very important. With the Common Core and the new evaluation system, you have to be hiring teachers who have a growth mindset for students because all children can learn to high expectations. Teachers need to believe that in order to be successful.
"If teachers have the right mindset, it's like having your own child in the classroom. You're not going to let your own child fail as a mother or father. If you hire the right teacher, with the right disposition, he or she is not going to let that child fail either. That's part of what we also believe in."
… for administrators:
"What we're trying to say is, even as administrators, it's [important] to have that growth mindset. It's about searching for the opportunities for success for children outside of the particular norm.
"If we're successfully reaching seven out of 10 kids, that's great for those seven, but then it's our job to see, 'How can we transform to reach those other three that we're not reaching under the current system?'
"It's really about customizing education in the future, breaking down the four walls, and seeing how education is taking place all around us, and how can we utilize that.
"For example, two days from now, we are working with St. Elizabeth Hospital here. They have this human heart. It's a blow up heart, and the kids actually walk through the heart, and can experience what it's like. Those are types of experiences - enriching experiences - that we're trying to give to our students by bringing them in and expanding those four walls."
… for principals:
"The third thing is challenging the principals. It's developing the leader from within. I want that person to grow every day that they walk to the building.
"Every day that they leave, and I give every principal a reflection journal, they should reflect upon the day. I always challenge them - what did you do that made today different than yesterday? If you can't record one thing in there, then you should really reflect on what occurred during that day that you didn't grow yourself, or grow your school, and grow the person.
"That growth mindset is very important. Every day, you should get better at what it is. The day that you decide that you're not getting better, if that slate's blank for 30 days, it's probably time that you're retiring, you're moving on somewhere because you're not making a difference.
"I think that it's very important. Everybody has to have a growth mindset. The parents do, the teachers do, the administrators do, the community does, and if you have that growth mindset, we're going to get better."
Creating a Strong Relationship with the Teacher Association
Superintendent Randy Poe:
"We have a great, collaborative working relationship with our teacher's association. They're a partner. … We have what's called a teaching and learning committee.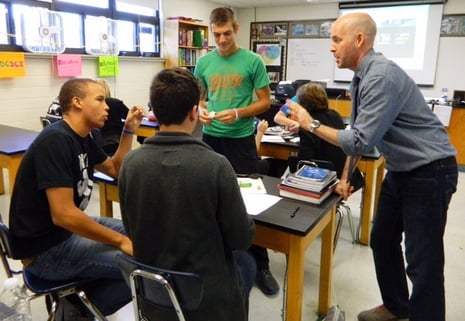 "Our teaching and learning committee works on adaptive work, not technical work, for the district. What's unique about that structure is that it's a board-established committee. Two board members, the majority of the superintendent's cabinet, and a teacher's association representative, or president, are on the committee. Plus, we have an elementary, a middle, and a high school principal representing their particular groups. What's unique about this is that nobody brings their title in.
"I can't sit there during the meeting and say, 'Well, as superintendent, this...' or 'as board member, this,' or 'as principal, that.' What we do is we hold the norms that we're soft on people, hard on issues. We are always looking for what are we doing [to achieve the goals] in our strategic plan.
"Our thing is, how do we actually change to improve learning? With the Common Core, it wasn't about tweaking something; it's about a whole new transformation. … Through the teaching and learning [committee], we're working on the culture of the district, but then bringing that structure in line with it.
"Everybody leaves their title at the door, but then after we come to agreement, then everybody is a representative example of their different groups and goes back to their groups and works on that concept and idea."
Charting the Common Core Implementation Journey
Chief Academic Officer Karen Cheser:
"I think this growth-focused leadership, strong partnerships and more, really laid a foundation for our Common Core implementation. You have to have that groundwork for successful implementation to happen, so it doesn't feel like a put upon or something that you're going to do.
"We adopted [Common Core] in February 2010. Part of my role was to bring to the Teaching and Learning Committee what is our plan.
"We thought, 'What do teachers need in order to have the support to start implementing these standards?' We didn't have a ton of time to figure it out. We went through many iterations of what this resource should look like. It was very heated. In the end we decided to create standards cards.
"We knew there was going to be a huge difference between where our kids were now and where they needed to be with regards to these new standards. We wanted to give teachers an indicator of what the standard was before, the one for their grade level, and what the one was after.
"We also felt like we did need to deconstruct the standards. We also established a list of what is the specific vocabulary was that we needed to be intentional about for each standard. We then needed to make the connection with ACT and college readiness standards. We wanted to connect that, and not make that feel like that was something separate. You will see on those cards that they will have the standard and then they have the standard deconstructed into learning targets.
"Once we had this as a resource we took all of our teachers through a two-day training. We did that three summers in a row, all focused on Common Core next steps and instructional strategies.
Topics: Common Core, Instructional Leadership