Leading for Literacy: CEL Partnership Helps District Smarten Up Practice System-Wide
The South Los Angeles County school district faced tremendous challenges. Less than one-third of its students read at proficiency level. Its high populations of English Language Learners and special education students were chronically underperforming: even those who could read words often had no idea what the words meant. Many of their teachers were convinced that some students just can't learn. The teachers didn't connect their own low expectations to the low literacy levels in their classrooms.
Leaders in the Norwalk-La Mirada school system were determined to make changes. They attended various workshops, professional development sessions, lectures, and training programs. But despite good intentions and hard work, the district was making little progress. "It was the Christmas tree effect. There was nothing solid, nothing consistent that could take us on this journey together. That's what the Center for Educational Leadership offered. It was a perfect match for what we were embarking on," says Ginger Shattuck, the superintendent, now retired, who helped the district forge a comprehensive partnership with CEL eight years ago.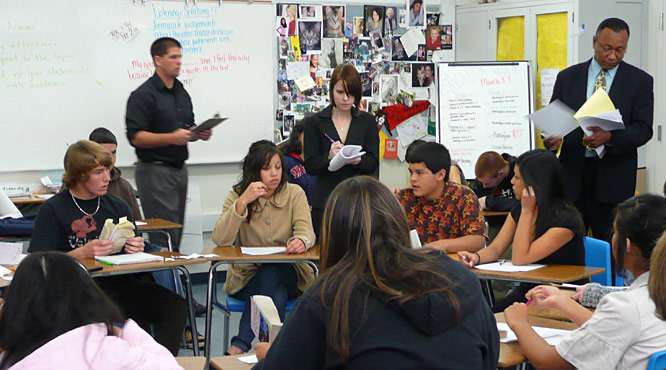 "We called CEL our 'critical friend.' They did a beautiful job of helping us realize our strengths and weaknesses, asking "Have you thought of….?' They saw what we needed and guided us to the right kinds of lessons."
CEL has formed multi-year district partnerships with school systems across the country, from Alaska to Louisiana, helping administrators, school leaders, teachers, students, and communities build a shared language, vision, and mission for improving the quality of classroom instruction. "To improve learning for students, you have to improve the quality of teaching practice, and to do that, you have to deepen the expertise of teachers and leaders," says CEL executive director Stephen Fink. "That is not something that happens in one year."
CEL tailors each partnership to a specific district, with services that include leadership coaching, subject matter coaching, guided walkthroughs, central office transformation, and support for aligning practices system-wide in support of student learning. "Our partnership prospectus is only a blueprint for the partnership," says Fink. "We customize the work according the needs of each district."
In 2003, when Norwalk-La Mirada's long-running partnership with CEL began, the pressing – and glaring -- need was to improve literacy skills. The dual district, with approximately 21,000 students, serves one city that is largely Latino with a substantial low-income population; the second city is moving from a middle-class white suburb to a more diverse community. The district's English Language Learning population is substantial. "The ELL population comes to us at all grade levels from other countries, so literacy is a large component of our core curriculum," says new superintendent Ruth Perez, who took over the reins from Shattuck in 2009.
With a committed school board investing energy and money into a sweeping literacy imitative, district leaders and CEL went to work getting the whole system smarter about powerful, equitable reading and writing instruction. They started with foundational work, slowly building a culture where everyone accepted the need for instructional change and embraced the idea of literacy coaching. "We said: 'If you go to the doctor, do you want them doing the same thing they did 20 years ago? It's the same with teaching," says Shattuck.
CEL consultants warned the work would be hard, and it would take time. "We understood there would be no quick fixes, no magic bullets," says Shattuck. "It was evolutionary, not revolutionary."
The first year, CEL immersed district and school leaders in training for subject matter and pedagogical expertise. Joining them were the new literacy coaches they'd hired from ranks of high-performing teachers after extensive interviews and teaching demonstrations. The new literacy approach was a sea-change for everyone. Most reading in the district had been teacher-directed, with a publisher's textbook as the source of instruction; the new high-powered lessons dug deep into comprehension, pushed independent inquiry and analysis, and sparked student engagement. Teachers had to involve all students, not just the hand-raisers, in dissecting text and debating ideas.
"It was a big mind shift to go from the standard read-aloud to independent practice," says Eileen Burkholder, one of the early literacy coaches and now a district elementary school principal. "We had to learn the new strategies, the research behind them, and then start unpacking the standards, really diving into them to understand them."
All the leaders – including central office personnel, the superintendent, and school principals – took their turn at demonstrating the new literacy strategies in classrooms. Shattuck wanted teachers to understand that this work was critical to closing the achievement gap and that everyone would be on board the bus, whether they worked in the classroom or in the human resource office. "CEL's mantra is 'You can't lead what you don't know,'" says Shattuck. "Everyone had to understand why we were doing what we were doing."
The demonstration lessons helped leaders get a foot in the classroom door, a door that traditionally has been hard to crack, says CEL executive director Fink. "For too long, education has been epitomized by privacy and isolation. Teachers walked into the classroom and shut the door. The principal came in once a year for evaluation. There was no culture there for helping the teacher improve practice, and any feedback was seen as an assault on the person and not on the practice."

Leaders used multiple strategies to convince teachers to open up their doors and expose their practice for public scrutiny. The leaders emphasized that they were inside classrooms to observe, not to evaluate, and that they were there to watch the students, not the teachers. "We wanted to push harder, go faster, but it was better to go slow, because the pushback was strong the first year," says Shattuck.

Even so, a good number of teachers quickly found the new literacy approach innovative and exciting. "It felt correct right away, like the right way to teach," says Amber Weston, who has taught 8th grade language arts/social studies in the district since the literacy initiative was launched.

If a new culture was seeded the first year, it began to root the second, after the first summer studio workshop, where literary coaches practiced their new strategies in summer school. "We became like a little laboratory, where teachers could come and watch," says Burkholder. "It was a very dense and immersed time where the focus was on the reading and the different approaches to it."

Gradually, more classroom doors opened, and more visitors came and went, including teachers examining one another's practices. Literacy coaches began working intensely with teachers in many of the classrooms, sometimes modeling lessons, sometimes working side-by-side, sometimes jumping in during lessons, sometimes urging teachers to "try on" a new strategy during a lesson, sometimes sitting in the back of the room taking notes for debriefings. "You went with the personality of the person you were coaching, what they were comfortable with," says Burkholder, who, like other coaches, took adult education training in CEL leadership sessions.

That training marked a big hurdle for the coaches, says Shattuck. "Teachers may be fabulous with children, but when they're adult-to-adult, nobody wants to hurt the others' feelings. It's difficult to have these conversations, and we had to train them in how to approach their peers."

CEL used multiple strategies to slowly build the culture for coaching, holding monthly large-group training session, small-group coaching, and classroom walk-throughs using CEL's 5 Dimensions of Teaching and Learning framework. To raise expectations for students, CEL consultants brought groups of struggling students into demonstration classrooms and worked with them in front of teachers and leaders. "Our eyes would open wide and teacher jaws would drop as these children began to show what they had," says Shattuck. "I'd been hearing 'Joey can't do that.' Well, yeah, Joey could do it – just not the way we'd been showing him. We had to raise expectations, and break down the beliefs that some kids just can't learn."

District administrators helped principals break away from managerial demands by creating "prime time" morning hours when the principals could be in classrooms working on identifying growth strategies for teachers, not in the office answering phones. "I didn't used to feel like my principal was my educational leader," Laura Williams, head of the local teachers association at the time, told a writer for Education Week. "They were more just running the school operations, like a maintenance kind of person. Then I really saw we could collaborate. We could have professional talk and be peers."
Within a few years, many teachers were not only accepting literacy coaches in their classrooms, they were requesting them. CEL consultants taught test-taking skills along with literacy skills and achievement scores began edging up. Students were more confident in their learning, and more were in the game, able to react and respond when teachers pushed past questions such as "What is the story setting?" to "How does the setting affect the story's mood?"
"Teachers were asking more of students," says Burkholder, "and they were getting more back. The students rose to the questions. They had just been waiting for us to ask them.
Eight years later, the achievement picture in Norwalk-La Mirada looks brighter. Test scores in English language arts are up significantly for both English Language Learners and special education students. Overall district scores on the state's Academic Performance Index jumped 28 points this year, exceeding the state average. "This is a trajectory in the right direction," says superintendent Perez. "We just have to continue focusing on the students who need support."
The district started with 10 literacy coaches. It now has 17. Coaches this past year spend half their time building curriculum maps and guides that aid lesson planning and progress assessment. "They've written more than 140 units of study incorporating the literacy strategies for teachers. Not only are they writing them, but they're helping teachers implement them so that this work can continue," says Perez.
Sustainability is one of CEL's key goals in building comprehensive partnerships. Districts must be able to push forward with progress made on improving instruction if they are to close achievement gaps. In Norwalk-La Mirada, that learning curve continues upward. "Our students come to us with so many different needs and backgrounds, the only way to reach them is to continue to grow and learn and differentiate our practice," says Perez. "We're continuing this work, knowing that we are all in this together – that we are all holding each other accountable for the work that needs to be done."
Topics: School Leadership, District Leadership, Teaching Effectiveness, Partnership Stories