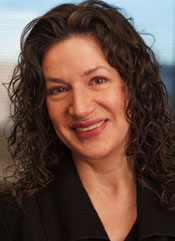 It was during the 2006 Summer Leadership Institute that James Bailey, Assistant Superintendent for Instruction of Uinta County School District #1, became intrigued by the opportunity to partner with CEL. Now, a year later, the Wyoming school district is celebrating the gains made as a result of its first year of partnership and is ready to begin year two with a continued focus on the mathematics achievement of all students in their diverse community.
The data is compelling. According to the Northwest Evaluation Association (NWEA) assessment administered in spring of 2006, 63% of Uinta's tested groups in grades third through tenth grade students were achieving at or above the national mean in mathematics. In the spring of 2007, this rose to 100% of tested student groups achieving at or above the national mean. Uinta has also made gains as measured by state assessments. During the 2005-06 school year, 66% of all students in third, fourth, fifth, sixth, seventh, eighth and eleventh grade were proficient or advanced as measured by the Proficiency Assessment of Wyoming Students (PAWS). This year, 76% of students were proficient or advanced in mathematics.
These promising results highlight the effectiveness of a purposeful and focused agenda on increasing the leadership capacity within a school system. Since CEL began partnership work with Uinta, district structures and procedures have been modified to accommodate and align with this specific initiative. Building-level math coaches support the work within schools, administrative meetings have an agenda focused on math leadership, observation feedback to teachers centers on the elements of powerful instruction supporting student learning, and a regular newsletter, titled "Connections," is sent to all staff to enhance district-wide collaboration and communication.
When asked about the elements that have made an impact, Bailey says, "I believe we can attribute a lot of our [math] results to our work with CEL." What did this work entail? Foremost, a systemic approach for leading central office staff, building principals, coaches and teacher-leaders to providing a deeper understanding of both mathematics content and instruction. "CEL helped us realize the complexity of the work and how to assist our principals in knowing how best to lead it," Bailey states. "I remember a principal telling me, 'I knew how to teach math, but I didn't know how to lead math.'" As research indicates, it is this critical element of developing instructional leadership that provides leverage for a school system to create conditions for equitable and powerful student learning experiences. The CEL/Uinta School District partnership provides yet another example of how these intentional efforts translate into making a significant difference in the lives of our students.
Topics: School Leadership, District Leadership, Teaching Effectiveness, Partnership Stories