System-wide change in an education system is not easy, and it is not fast. Ginger Shattuck, who worked with the Center for Educational Leadership in a long-term comprehensive partnership aimed at boosting literacy in her underperforming district, describes the transformation as "evolutionary, not revolutionary."
"We understood from the beginning that there would be no quick fixes, no magic bullets," says Shattuck, who was superintendent of the Norwalk-La Mirada Unified School District when it signed a multi-year contract with CEL in 2004 aimed at building a new vision, language, and mission for powerful, equitable classroom instruction.
The South Los Angeles County school district faced tremendous challenges. Less than one-third of its students read at proficiency level. Its high populations of English Language Learners and special education students were chronically underperforming. Many teachers were convinced that some students just couldn't learn. "I'd been hearing 'Joey can't do that.' Well, yeah, Joey could do it – just not the way we'd been showing him," says Shattuck.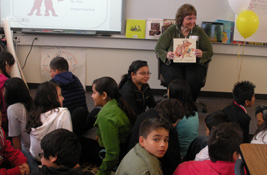 CEL consultants went to work slowly building a culture receptive to change in a district where literacy had largely been teacher-directed, with a publisher's textbook as the source of instruction. "We said: 'If you go to the doctor, do you want them doing the same thing they did 20 years ago? It's the same with teaching," says Shattuck.
CEL's experts began in the central office, training everyone from the superintendent to business managers in new cutting-edge literacy techniques focused on comprehension, independent inquiry, and student engagement. The leaders had to demonstrate the lessons in classrooms, establishing credibility for the work and showing that everybody was on board, says Shattuck. "Everyone had to understand why we were doing what we were doing."
CEL used multiple strategies to build buy-in, including group sessions, classroom observations, and studio laboratories. In demonstration classrooms, CEL specialists worked with some of the lowest-performing students, modeling the new literacy technique. "Teacher jaws would drop as these children began to show what they had," says Shattuck.
The district slowly added literacy coaches to the mix to work side-by-side with teachers in the classroom. In the first year, the new coaches worked with volunteers. By the third year, it was mandatory for every teacher to work with a coach. By then, even some of the most reluctant teachers were happy to open their practice to public scrutiny and feedback.
As changes took root, Shattuck watched students grow more confident in their learning. With CEL coaching in test-taking skills, achievement scores began edging up for both English Language Learners and special education students. Many classrooms transformed into lively places where students talked about the "big ideas" in a text and used evidence to support their thinking.
Shattuck, who retired in 2009, calls CEL a "critical friend" in making that transformation possible. "CEL saw what we needed and did a beautiful job of asking 'Have you thought of…' and leading us in self-questioning. That was instrumental in moving us along."
Topics: School Leadership, Classroom Coaching, Studio Laboratories, Partnership Stories