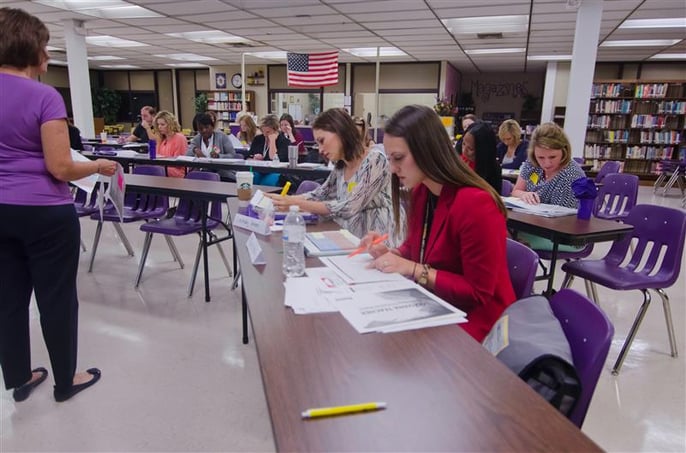 In Central Louisiana, 139 educators have begun a three-year journey that will prepare them for leadership positions in their schools and school districts. The educators started Aspiring Leaders, a leadership institute administered by The Orchard Foundation and funded under The Rapides Foundation's Education Initiative. The Aspiring Leaders curriculum was developed specifically for Central Louisiana by the University of Washington's Center for Educational Leadership (CEL).
The Rapides Foundation's Education Initiative seeks to increase the level of educational attainment and achievement as the primary path to improved economic, social and health status. At the core of the initiative is its continued effort to build leaders in the field of education by offering a variety of institutes for Central Louisiana educators.
"There are always challenges for the districts not only in Central Louisiana, but across the state, in filling positions. Our ultimate goal is to create that hiring pool, and we have the confidence that all of the people who complete Aspiring Leaders will have the baseline knowledge of those key instructional leadership principles that the University of Washington's Center for Educational Leadership builds its program on," said Marjorie Taylor, Executive Director of The Orchard Foundation. "The program is centered around high-quality instruction: How to recognize high-quality instruction, how to provide feedback and how to support teachers in providing that. The Center for Educational Leadership is recognized nationally as the leader in instructional leadership. They are the best practice."
The initiative helps school leaders deepen key instructional leadership skills as defined in CEL's 4 Dimensions of Instructional Leadership™. "By the end of the third year, we think, not only will our aspiring leaders have a really good sense of how to improve instruction, but also how to align everything within a school — your resources, your people, your professional development — to a vision and mission," said CEL Project Director Diane Smith.
Read the full article on the Rapides Foundation's website.